After a long year of hard work, what better way to celebrate than to plan a corporate event. The perfect way to end the season on a positive note, whilst bringing together the whole company together.
But, as many would assume, planning a corporate event can be a large and daunting job. One big milestone to overcome and a hurdle for many and that is choosing what entertainment to hire!
It is important to make sure that your planned event will satisfy every guest and ensure they are all thoroughly enjoying the event. But, how do you begin going about organising a Christmas work party? We have put together some of the best and most unique ideas that can be used at any Christmas themed corporate event.
With these suggestions, you can be confident that your guests will be sure to leave with a smile on their faces, and some fantastic memories from the night.
Stand Up Comedian
A stand-up comedian is probably one of the easiest forms of entertainment to find as they are dotted just about everywhere and are happy to showcase their talents at any event. A comedian creates a fantastic atmosphere of smiles and laughter, something everyone loves to do! It will also end the year on a positive note, and everyone will enjoy arriving back at work in the New Year.

Interactive Photo Booths
Everyone will arrive at the event dressed in their best, get-up to impress. So, why not capture this in a creative photo fo help remember the night. A photo booth is perfect for getting the colleagues together to share some laughs. The photo booth can even cater to the Christmas theme and offer some brilliant props and accessories for guests to use in their snapshots. Everything from a Santa beard to elf ears, the photo booth will be sure to bring the Christmas theme to every image.
Magician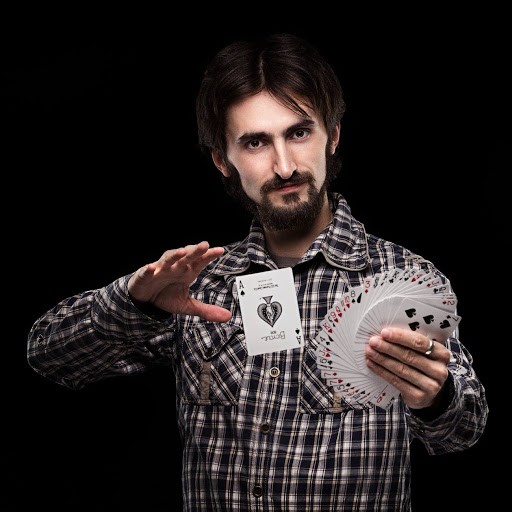 It may, at first, seem like a magician is only for a children's party. However, with a high quality of performances around, it will be certain that the magician won't be bringing balloon animals or scarf tricks to your party. The magic can be showcased perfectly at the corporate event to stun the guests.
It would be great to have an up-close and personal performance of the magician going around the guests while they're chatting or enjoying beverages, so everyone can experience the magic first hand!
Bar Games
These are a great way to create a relaxed and laid back atmosphere. It is even a brilliant competition starter to get the colleagues interacting with one another, who doesn't love a little bit of harmless office rivalry!?
The games can be anything from darts, pool or even table football, anything to get the guests involved. The relaxed 'pub night' vibe will also invite the guests to feel comfortable enough to let their hair down and really enjoy themselves.

Live Karaoke
The ultimate party starter that will be sure to get the guests dancing is to hire a live karaoke band! Sure to get colleagues laughing and joking together, some unknown talents could also be discovered. For those wanting to splash out on their live karaoke band, consider hiring a live set of instrumentalists to back the performer on stage to give them a true superstar experience. Take to the stage along with your colleagues and sing your favourite tunes in front of a live 5-piece band for an unforgettable experience.
Dancers/Performers
Wow, the guests with a live stage performance from a set of dancers in a dance of your choice. Whether you prefer Brazillian all the way to ballet, the world of dance is insanely large, and the decision is up to you. We recommend having a look around and see which style is best suited to your Christmas work party theme. A festive touch would be a beautiful performance of The Nutcracker or The Christmas Tale, for example, to truly capture the time of year and sprinkle a little bit of magic on your event. even better, at least it won't be your feet hurting from all the dancing!

Caricaturist
Likewise, with the magician, a brilliant interactive Christmas entertainment idea is that of a caricaturist. The artist who is best known for drawing comical, exaggerated cartoon will be sure to give the guests a few giggles and a memoir they can take home with them. No one will turn down some free art with themselves as the subject!

Casino Tables
Add some intensity and excitement with your very own casino table for the Christmas entertainment. A fun experience for all, whether spectating or playing, a casino table can help bring everyone together. Perfect for those who want to add some relaxed entertainment, if gambling for money feels uncomfortable, consider getting guests to gamble just for the fun of it.
Jazz Band
If sophistication is the style you are going for, then consider hiring a professional jazz band! This is perfect for setting a classy, respective atmosphere for your guests to appreciate while comfortably chatting to one another. A jazz band is a subtle form of Christmas entertainment that your guests will love, and you never know, there might be a few dance moves thrown around to the beat of the music.

Carol Singers

Mark the occasion the way it should be, with a good sing-song! A suitably sized choir will be just what the event needs to either greet the guests into the venue or serenade with them later on in the evening. An end to a year to remember, projecting the favourite Christmas carols around the room for everyone to join in and hear, what better way is there to truly bring the Christmas spirit!

Summary

Are you planning for your annual Christmas work party? If you are struggling with ideas or how to organise the ultimate, festive work party, then look no further than our top suggestions.
What can be highlighted from our suggestions is, that no matter what style of Christmas party you are organising, make sure to add some Christmas festivity to your day.

From a swing jazz band, live karaoke band to a comedian, the entertainment option is up to you and with a little bit of research and hard work, you can organise a spectacular, end of year Christmas Party for all your colleagues.