A New Year, a new chance to refresh and modernise your home. As we begin another year staying safe in the sanctuary that is our homes, making sure that our homes are bright and cheerful can be a key in staying positive in what can feel a bleak and never ending pandemic.
From creating a productive home office, refreshing our kitchen, to revamping our bathroom, we are here to help and recommend some surprisingly stylish bathroom trends that we guarantee that you wouldn't have thought of.
Keep reading to discover the top bathroom trends for 2021 that you can incorporate into your home this New Year.
Top Bathrooms Trends for 2021
1. Marble and Stone Tiles
Marble and stone patterns continue to be strong design influences for bathroom wall and floor surfaces into 2021. Polished and gloss marble inspired finishes are particularly desirable, the sleek natural veins combine with the reflective finishes to create a welcoming space which amplifies the light within the room to create the illusion of space and openness.
Total Tiles offer a comprehensive range of over 500 tile ranges of on trend bathroom wall and floor tiles at incredibly low online prices for delivery across the whole of the UK.
Shop Total Tiles full collection of Bathroom Tiles
2. Black Accessories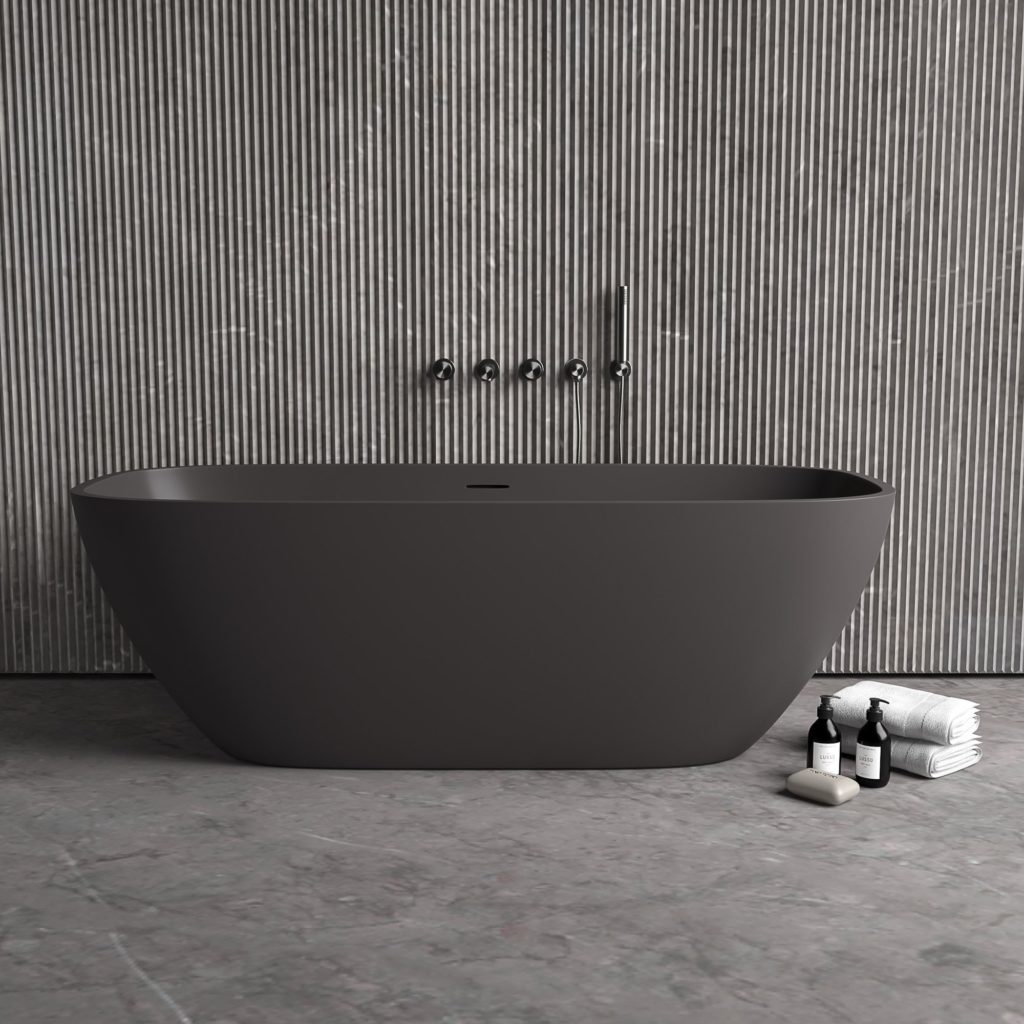 A second top bathroom trends for 2021 that can be easily incorporated into the design of your bathroom and that is black accessories. This feature can take the form of black tap faucets, black mirrors or even dark coloured storage features.
An eye-catching colour, we love the Lusso Monaco Charcoal freestanding bath from Lusso Stone. Standing out and becoming the focal point within the bathroom, we feel confident that you will struggle to get out of the bath, choosing to spend many a happy hour soaking away all the days tension.
Shop this freestanding bath for yourself at Lusso Stone for £1,995.00
3. Soft Pastels
Colour is a key component, a great addition to add some much needed cheer to our home and one top bathroom trend that is staying on for a further year and that is soft pastels in the bathroom. Whether added as bright sinks or pastel walls for added drama, for those homeowners not ready to take the bold leap, consider the simple inclusion of pastel towels.
Oyriss Home has an fantastic collection of super soft fleece pastel towels in a colour of your choice available from £6.
4. Brass Furnishings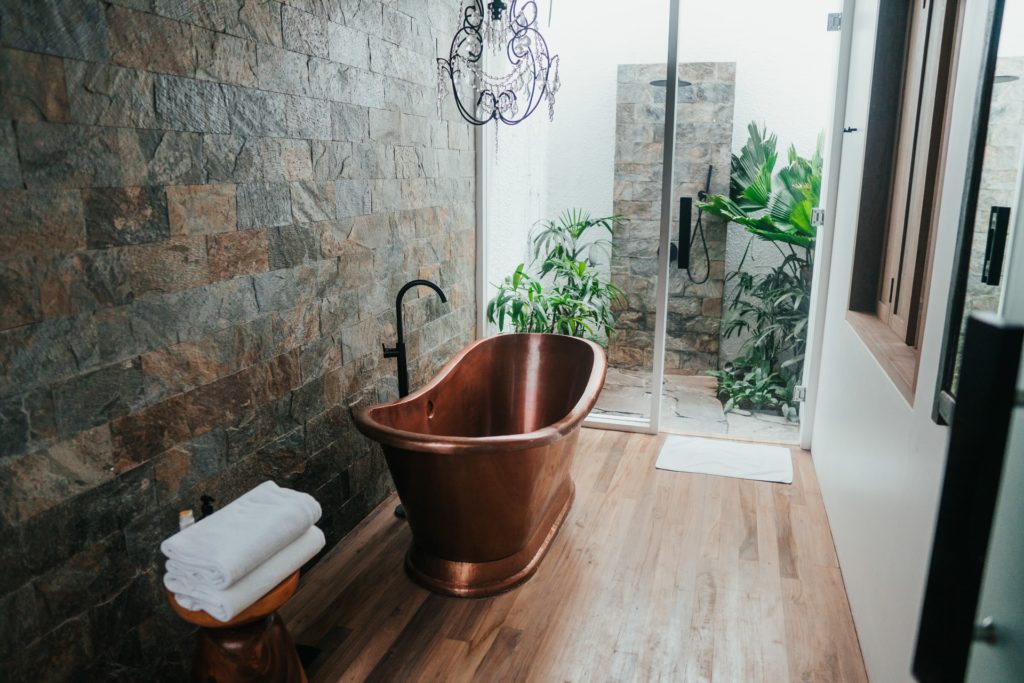 If the idea of black as a top bathroom trend is too bold of a statement and the thought of something a little more industrial springs to mind, then we recommend considering the addition of brass furnishings. Brassware taps, shelves to large copper effect baths can create a focal point within your bathroom while creating a stylish and sophisticated vibe through its effortless feature.
Wanting to add brass to your bathroom? Check out the Liberty collection from Contemporary Tapware.
5. Subtle Wood
For those homeowners who enjoy the simplicity of wood within the bathroom, then consider a light wood. One material for adding subtle wood to your bathroom and that is with bamboo.
Bamboo mirrors, tooth brass holders and even a free-standing bamboo storage shelf unit can add those earthy tones to your homes while helping to create a spa-inspired zone for much needed time out throughout the day.
Check out this 3 tier bamboo bathroom shelf from Simply Homeware for $71 for style and practicality.
6. Themed Bathrooms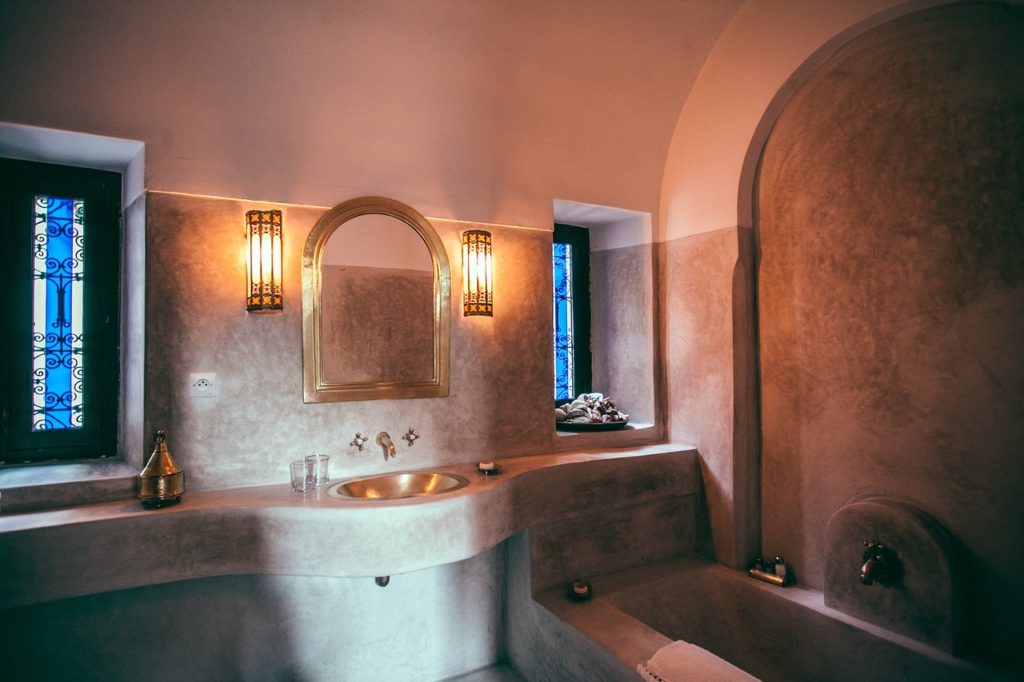 A top bathroom trend for 2021 that is taking homeowners by storm and that is updating the décor of your home in line with a particular style. Whether this is safari print, or to resemble that Moroccan Riad that you stayed in once, revamping your bathroom in line with a particular theme can take you on a magical journey every time you enter your bathroom.
This top bathroom trends for 2021 offers you the freedom to get as experimental with your bathroom design and be as eccentric – or not as you desire, the detail is in the finishing touches.
7. Bathroom Lighting
A key feature within any room in the home, when it comes to lighting within the bathroom, making sure that your lighting is in keeping with the design of the bathroom can be the make or break. One lighting design that we are loving this year and one to help relax and sooth us in these unprecedented times and that is candlelight.
Reflecting and bouncing light around the bathroom, Minayn has some fantastic metal candle holders that transport us back to hot Arabian nights and are best paired with hot bubble baths and lavender bath salts.
8. Bathroom Plants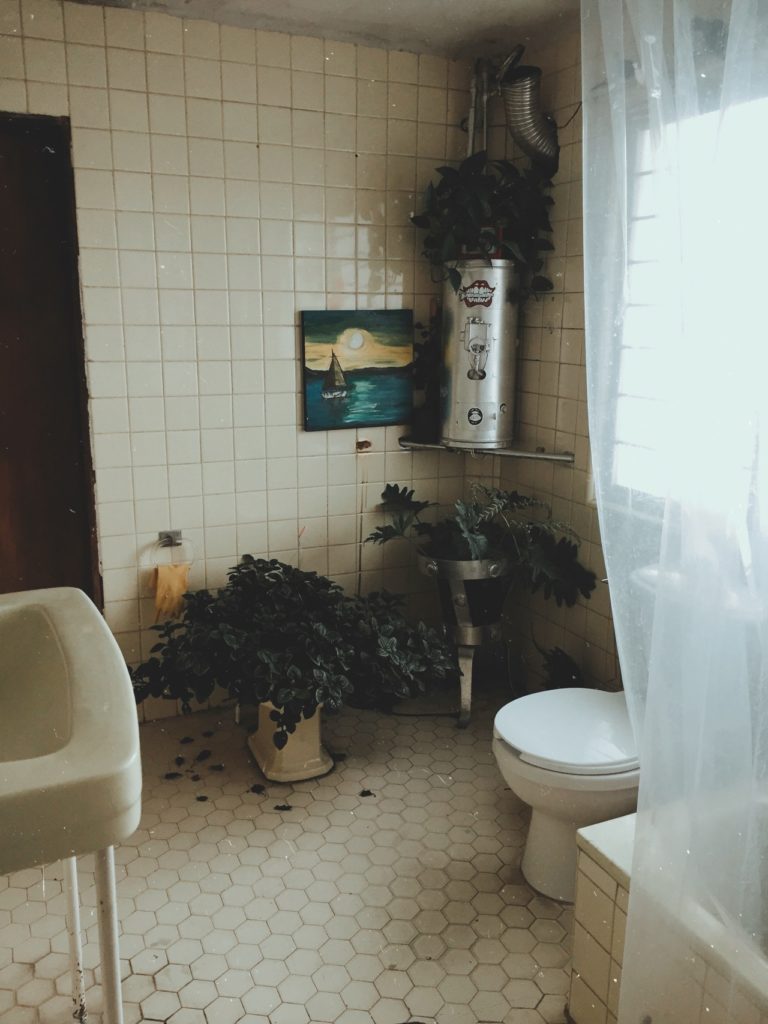 As our lives are turned upside down and normality as we know it remains on hold throughout this ongoing pandemic, one change that we have witnessed and that is the appreciation and desire to spend more time outside immersed in nature. A top bathroom trend for 2021 that we will be added to our homes and that is the addition of plants in the bathroom.
Bringing nature in, and by choosing plants that thrive in the humid environment can create tropical vibes and create a welcoming environment that is essential in what is often a sterile and emotionless room. Ferns are a top choice for adding into the bathroom due to their need for humidity and indirect sunlight.
Head over to Gardening Direct to get a Boston Fern from £14.00
9. Industrial Themes
Our penultimate top bathrooms trends for 2021 for your bathroom and that is the industrial theme. Adding effortless cool to your bathroom, this interior trend has already exploded in offices, restaurants and looks at home in trendy loft apartments. Incorporate this industrial trend through the addition of open brickwork, titled sinks and pendant dome lighting.
10. Classic White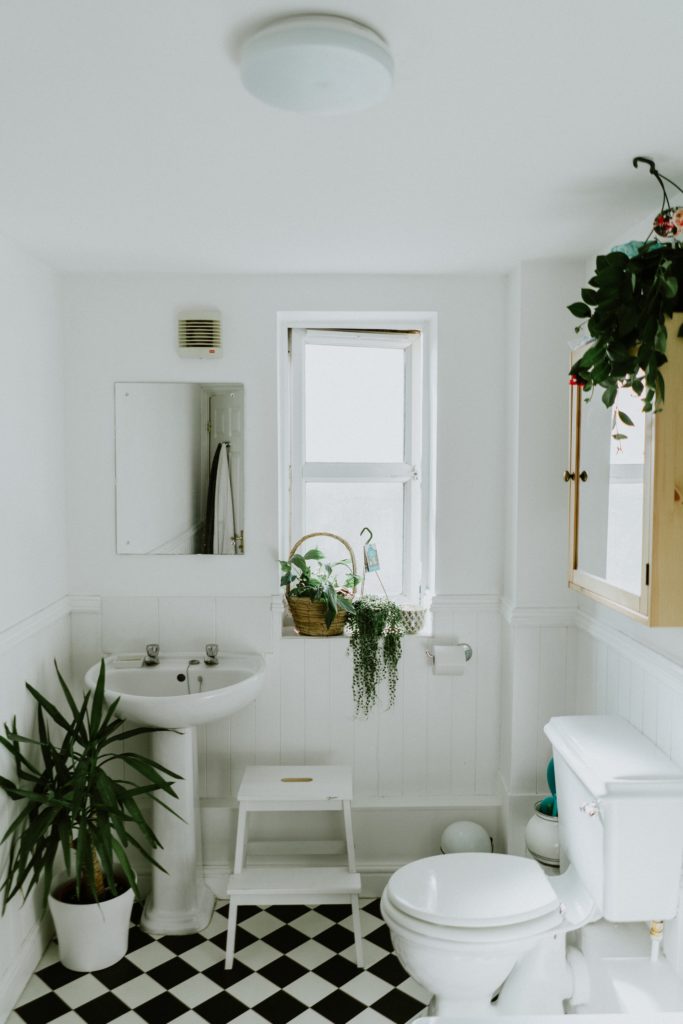 White, a classic and common colour within the bathroom and one that if done correctly can look amazing. A colour that will never go out of style, classic white continues to remain popular as a bathroom trend for 2021.
With tiles playing a style feature in 2021, for those wanting white tiles without the commitment, these white hexagon tile packs can be stuck on and removed when no longer wanted. Waterproof and heat resistant, these tiles promise to last, no matter how humid your bathroom gets.
Get these White Hexagon Tiles from Stick on Luxury from $7.50
---
There you have it, 10 top bathroom trends for 2021 that can be incorporated into your bathroom throughout the year ahead.
Weather added as simple additions such as bathroom plants, or super soft towels to cocoon yourself in after a hot bath, to a complete revamp adding uplifting and welcoming pastels to brighten up your day, we are confident that there is a style that you will adore and that will improve your home.
What did you think of our recommended bathroom trends for 2021? Perhaps there is a style that you are planning to incorporate into your home?
Comment below and share your thoughts with us today.