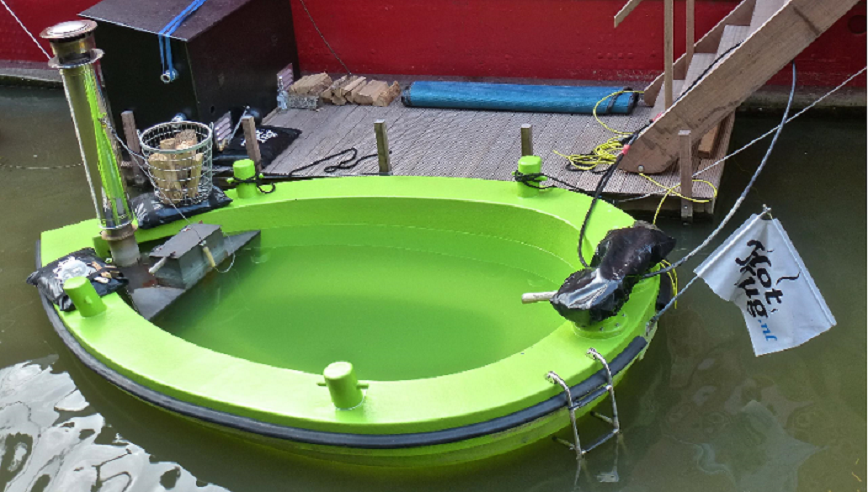 I am asked to write about Spas and Hot Tub repairs and maintenance on a regular basis and during the research of the subject often come across some truly unique hot tubs. So rather than harping on about how to maintain a hot tub or fit one in with your garden landscape I thought it would be fun to share my three favourite hot tubs of the moment.
My Most Unusual Hot Tub
I came across the Hot Tug in an article in the Irish Mirror, and on first sight could not quite believe my eyes. A hot tub that doubles as a boat. A floating hot tub that holds up to eight passengers with the water heated by a stainless steel wood burning stove.
Although the boat has a motor it is not designed to get you anywhere fast, but then surely the slow pace is all part of the relaxation. The Hot Tub gentle meanders down rivers at a lazy 3mph very quietly, thanks to its electric motor which, fully charged, will give you eight hours of sailing time.
I couldn't help but think what an amazing experience this would be for a special occasion, perhaps a hen party or milestone birthday. Something quite out of the ordinary. If you fancy one for yourself it will set you back a mere £30,000.
My Most Unique Hot Tub
Well, if you thought the Hot Tug was expensive the World's longest hot tub is priced at almost £47,000. If its price wasn't obstacle enough, although I do think you get a lot for your money, then there is the space that you would need to landscape it into your grounds.  The hot tub is some 12ft long and is actually designed for both relaxation and fitness.
The tub is split into two halves, one for relaxation and the other for swimming against a current which is said to burn more calories than swimming in a regular pool.
This hot tub is also designed for eight people, although more active ones, and has lots of additional features which include a sound system and waterfall.
My Most Beautiful Hot Tub
Nestled in the Solent off of the South Coast you will find the historic Spitbank Fort. Dating back to 1878 its purpose was to defend Portsmouth Harbour. Recently this fort has been converted into a most luxurious hotel venue, and only accessible by boat from Gunwharf Quays it is akin to staying on your own exclusive island.
The top of the fort boasts, not only a hot tub with breathtaking views across the Solent to the Isle of Wight, but also a fire pit and roof top pool.
With only 9 bedrooms, the fort offers the height of luxury, opulence and exclusivity and is possibly the most spectacular setting I have seen for a hot tub yet. My hand would certainly be first in the air if they needed a hot tub repair or maintenance engineer.
What do you think of these hot tubs? Have you seen or used a hot tub in a unique, luxurious location? Let me know in the comments.