Design trends, whether that is in fashion, technology or interior design tends to change and pass faster than we have time to enjoy them. With the elements and latest trends switching too fast for us to hold onto, it can be a challenge for many homeowners to incorporate the latest trends into their home.
When it comes to revamping and improving the interior of your home this Autumn season, there are a handful of in style designs that you can incorporate into your home. Simple, yet luxurious, we have gathered the top interior design trends of Autumn 2019 that you too can incorporate into your home with ease.
With a large emphasis on strong, bold colour schemes, add some modern, cosy vibes to the interior of your home, helping to keep you warm and snug when the temperature begins to drop.
In this article, we will be discussing how this years top Autumn trends can be effortlessly brought into your home, helping you to stay up to date, in the easiest way possible with the must-have interior trends.
Textures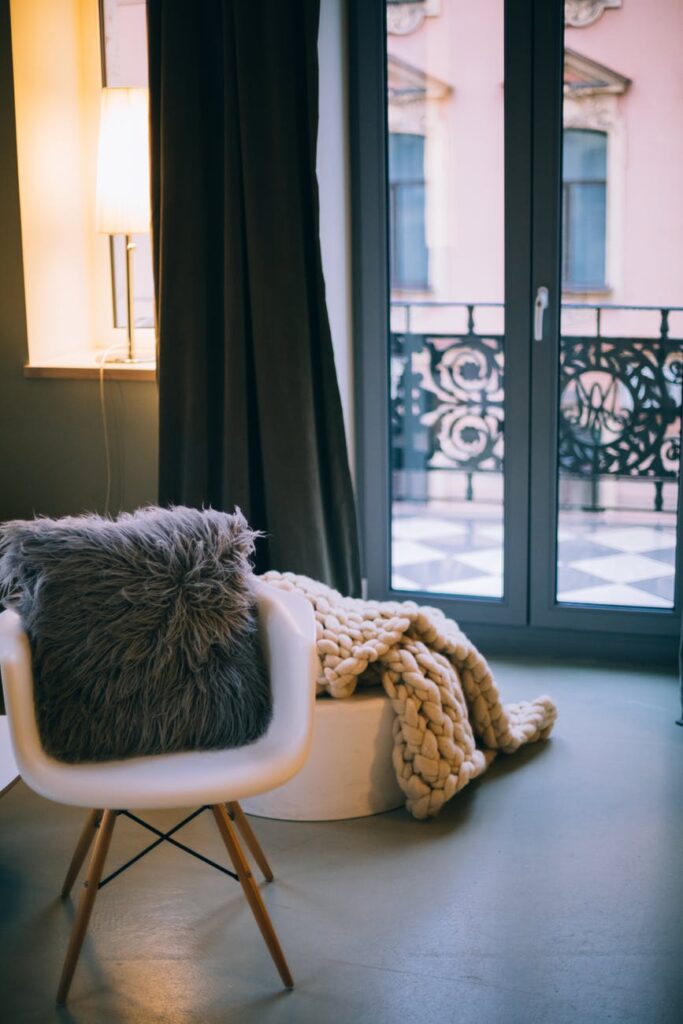 Let us start with the addition of textures. By looking at the materials and textiles that are on trend this season, you can add a flourish of Autumnal comfort, keeping you warm and snug on the run-up to Christmas. Pair with a fabulous piece of artwork, to bring the entire ensemble together for a room full of textures.
Faux Fur
A very popular interior design trend that makes a recurring appearance throughout many seasons of the year and that is the addition of soft, faux fur features.
Whether you choose to add some softness in the form of pillows, blankets or throw, for that truly autumnal vibe, throw in some faux fur helping to achieve a comfortable living space that is affordable.
Boucle
A popular choice of furniture this Autumn and that is the rich, delicate Boucle fabric. The addition of this material creates a sense of drama to any living space while helping to keep and maintain that cosy feeling between its thick, woven layers. Due to the richness of the fabric, Boucle can be brought in a selection of colours and can be best used and appreciated when used to decorate sofas and Occasional Chairs.
Oak
When it comes to interior that oozes tradition, wood can be a top choice for Autumn interior decor trends for your home. Allowing the interior of the home to flow perfectly, add wooden features throughout, whether within the floor or furniture. With the arrival of Autumn comes the potential to upgrade the traditional brown oak shades that we have already within our homes. This season we see grey undertones being incorporated into homes and added as interior finishes. Grey oak brings a muted, cool feel to a home, while also being a colour that can be easily paired alongside other, high contrast accessories.
Colour
The perfect partner for luxurious soft textiles and that is the power that is colour. Whether painted on the walls within your home or added to the flooring, accessories or even with the addition of furniture. Colour is the perfect way to bring the season of Autumn into the home while warming and rejuvenating guests after a blustery day out in the cold. From bright and bold, crisp and cold, colour is a powerful tool and requires fine attention to detail.
Deep Blue
This autumn, the bold and calming colour that is blue is making a comeback. Rather than a light, pale blue, stick to a deep, heavy Sapphire and Cobalt blues. A comforting colour, have a dramatic and bold autumn, resembling the night sky spotted on a clear Autumn's evening.
Natural Dark Greens
It goes without saying that all colours that we associate with autumn can be spotted within the environment around us. By bringing into our homes colours from the land, you can capture and cling onto the joy that is Autumn. Along with bright orange and ombre shades; consider a natural dark mossy green to add to the interior of your home. By intertwining deep greens with the interior, you can create a luscious atmosphere to curl up in while enjoying the crackle of your open log fire.
Night Time Black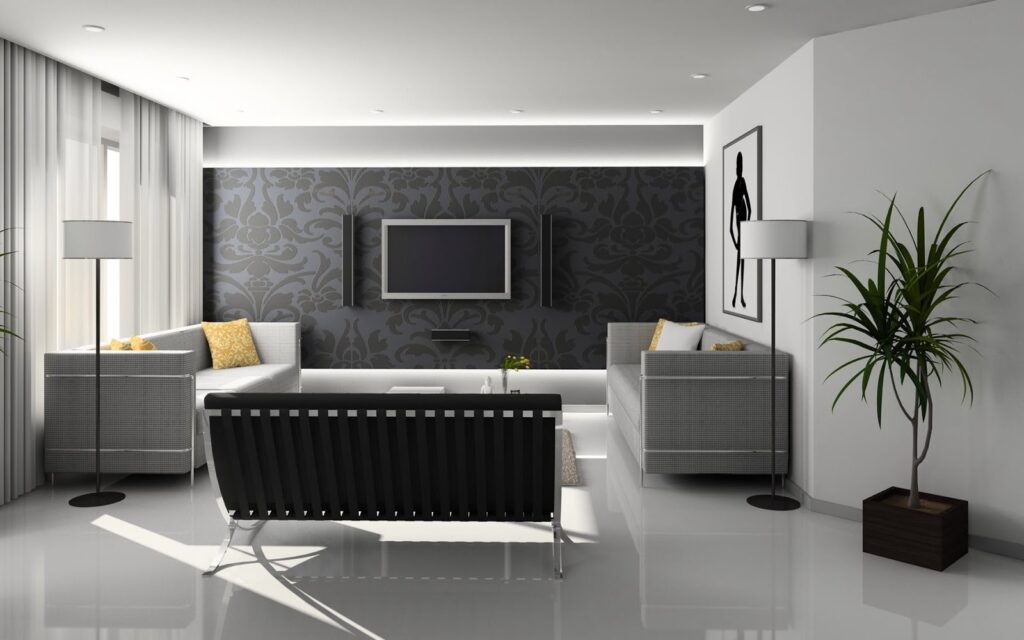 A shade that only the bold will want to embrace; when mastering the next big Autumn interior decor trends for your home, be bold and use night time black. Whether added to one wall in your living room or as a backdrop in your bathroom, the odd lampshade or solo piece of furniture will stand out as the ultimate statement piece.
Patterns
A trend that is still as powerful and as popular than ever and that is the addition of patterns. Whether in the form of wallpaper, soft pillows or bright curtains; when it comes to incorporating patterns into your home, there is a large and exciting collection to choose from. Throughout Autumn, we are seeing interior home designers taking their love of patterns to new levels, mixing and matching for edgy and forward-thinking results.
Tartan
When it comes to Autumn style, Autumn would not be complete without the addition of tartan. A classic staple and yet stereotypical design; tartan is best placed, thrown over the side of the sofa or used as a throw, keeping you warm while holding a large mug of hot chocolate. One of the best things about tartan, however, is that it doesn't need to stick to the traditional colours. This Autumn, the original pattern is getting an upgrade with flourishes of yellow, orange and even blues, helping to re-boot this traditional feature.
Doubling Up
Pattern-on-pattern design is one that has been seen massively over the years. And it is most definitely coming out as a top Autumn's interior decor trends for your home. When adding pattern on pattern, consider choosing patterns from the same colour pallet. This will help to create more professional results that appear thought out to guests. This feature can be placed in any space within the home. Giving it a personal touch while still capturing this seasons Autumnal trends.
Retro
Retro is always going to be a popular choice when it comes to interior design. Sparking nostalgia; with line designs, shapes and bold colours, retro vibes can bring a new lease of life to your interior. Able to be incorporated through the addition of accessories, fabrics and even crockery, add a new lease of life to flow through the dreary evenings.
Summary
The Autumn season is fully upon us. And, what can be seen from looking at the top interior designs of Autumn 2019; is the ability to be bold and experiment. Through the addition of freshness and a retro twist; bring back memories from the past and unwind surrounded by faux fur cushions, wooden details and bold tartan.
Bringing these styles into the home this year can clearly be done with ease. With a simple coat of paint and the addition of a few colour complementing accessories; you can quickly boost the style of the home. Bringing it up to date with the latest trends.
By intertwining the features of your home with the latest trends, you can create a charming and luxurious space that you can call home.
What do you think of the latest Autumn interior decor trends for your home; are there any design features that you too are planning to incorporate into the interior of your home?
Let us know and we look forward to hearing your thoughts.