If you've found yourself stuck at home and unable to go out, then you're not alone! People all around the world are currently being told to stay indoors to help prevent the spread of the Covid-19 virus. The prospect of staying at home for a prolonged period can seem daunting and overwhelming at times, especially for those who usually lead an active lifestyle or are worried about feeling lonely and isolated. Luckily, there are plenty of ways to stay fit and healthy even when you cannot go outside. Here are a few of our top ideas on how to remain healthy when in self-isolation:
Stick to a routine
During isolation, it may be tempting to abandon your usual routine and sit around in your PJ's all day. However, this can have a negative impact on your productivity and overall wellbeing. While you may be unable to stick with your normal routine – going to work, meeting up with friends, eating at restaurants, etc. – you should create a new routine at home. For instance, try to get up at roughly the same time each morning, do some form of physical activity, take a shower, get dressed, and make a healthy breakfast. Many studies show the importance of having a routine on mental health and Mind.org states that having a routine helps people stay grounded.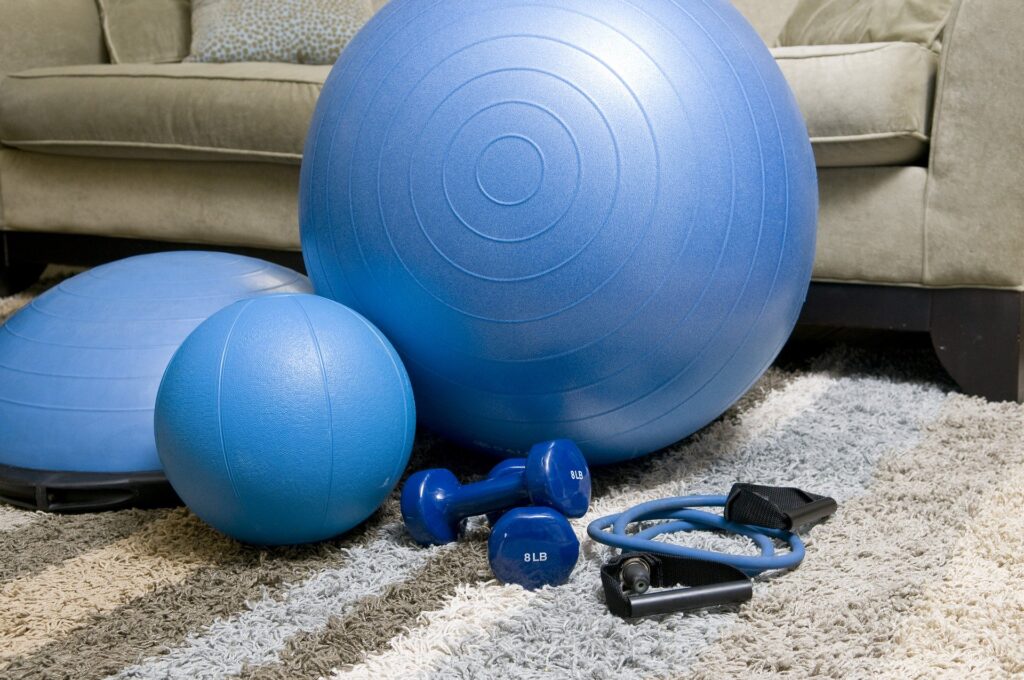 Do home workouts
One of the easiest ways on how to stay healthy when in self-isolation is by doing home workouts. Regular exercise has a wide range of health benefits and reduces your likelihood of developing medical conditions such as heart disease and diabetes. Along with the physical benefits, exercise has also been shown to boost mood, improve mental wellbeing, and reduce feelings of stress and anxiety. Fortunately, there is a huge variety of fun home workouts to suit people of all fitness levels and abilities. You can purchase a home fitness DVD, download a fitness app, or stream various exercise classes online. Many fitness professionals are also offering free online exercise videos to help motivate people to stay active during isolation. If you are new to home exercise, then you should start with a low impact workout for beginners, before moving up to more advanced exercise videos. You should also consider purchasing some quality fitness equipment and clothing to make your workouts as effective as possible. 
Create an effective work environment
Many people are now working at home due to the Covid-19 outbreak. Working from home certainly has its benefits – no commuting costs, no time spent sat in traffic, and lower carbon emissions. However, working from home also has its challenges, particularly for people who are trying it for the first time. If you are working from home, then you must create an effective working environment to complete your work tasks. Ideally, this should be in a separate area of your home, away from distractions like televisions. Make sure you have all of the equipment that you will need to complete your work tasks efficiently. This should include a comfortable chair, a quality desk, and a reliable internet connection. It is also important that you take regular breaks from your work tasks. Experts at Arctic Shores explain – "Unnatural blue light that screens emit can lead to headaches, blurred vision, and the imaginatively-named computer vision syndrome." You can avoid this by taking regular, short breaks from your computer i.e. a 5-10 minute break every 60 minutes.
Stay in touch with loved ones
Sadly, Covid-19 has left most people separated from their family and friends. However, you shouldn't let social distancing measures stop you from staying in touch with your loved ones. Luckily, there are now plenty of ways to catch up with your family and friends during isolation. You can talk with your loved ones over the phone, video call them using Facetime, or contact them via live messaging apps like WhatsApp. Your loved ones can provide a valuable support network during difficult times and regular contact will help keep you positive and strengthen family bonds. Make sure you take advantage of communication technology and try to speak with your loved ones every couple of days while following the recommended social distancing measures. 
Final thoughts
Rather than viewing isolation negatively, try to see it as an opportunity to try home workouts, contact loved ones online, and improve your overall health and . Covid-19 has had a significant impact on all of our daily lives and routines, but there are plenty of ways on how to stay healthy when in self-isolation and unable to go outside. Remaining active will have a positive impact on your physical and mental health and ensure that you keep well during periods of social distancing. Use the above tips to help you stay active, healthy, and happy during isolation.