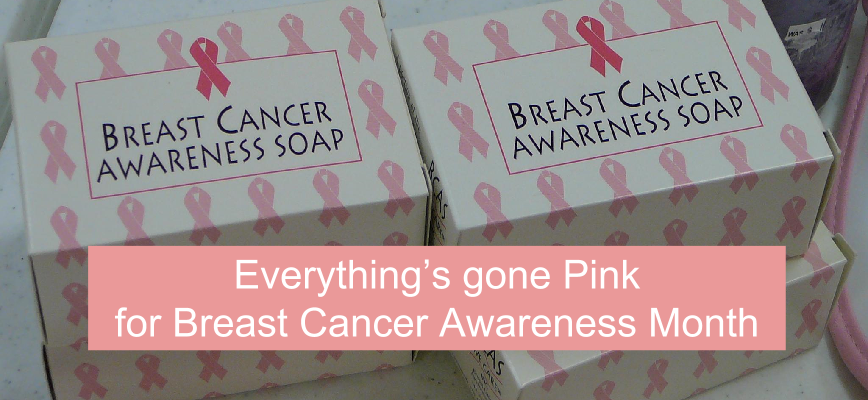 Thousands of organisations worldwide get involved in the annual event that is Breast Cancer Awareness Month, Pinktober, to emphasise the importance of breast awareness and ongoing education and research. Everyone's going going pink for breast cancer awareness month!
Why do we need a breast cancer awareness month? Surely everyone is aware of this evil disease? Well, whilst most of us are indeed very aware of breast cancer, particularly with so many unfortunate people having been through the ordeal of it, many women still don't take action to detect the disease early.
One of the key reasons for Breast Cancer Awareness Month is to encourage women to check for the disease so that it can be detected and treated in its early stages, and to highlight how we should be supporting others to do the same.
So, throughout the month of October it seems that everything from landmarks to lipbalms are turning pink in support of the cause.
Iconic Landmarks
In a bid to get the public onside for Breast Cancer Awareness Month many 
iconic landmarks are turning pink
 including the Eden Project and the Oxo Tower, to name but a few.In Welwyn Garden City even the 
fountain has been turned pink
 in support of Breast Cancer Awareness Month.From the ordinary to the extraordinary, you can't be sure what will turn pink next.
Would you have expected these American items to be pink?
Hot Tubs
An American company are offering pink Hot Tubs with a donation going to cancer charity, as well as holding pink themed parties for the cause. I can't help but wonder if the 
ho
t tub maintenance
 engineering will be wearing a pink boiler suit.
Airlines 
Even 
airlines are going pink
. American Airlines staff are sporting pink
glittery eyelids
and uniforms with the inflight customer experience being pinked up too, including a serving of pink lemonade.On a more "ordinary" levels there is plenty you can do to give support whilst your are out shopping:
Fashion Fundraisers
The fashion industry is involved too with the Fashion Targets Breast Cancer campaign still standing strong as a force against breast cancer since being launched by Ralph Lauren in 1994. Many of the major high street stores are now involved, giving a percentage of sales on a range of clothings items in their support. Stores involved include M&S, Topshop, River Island, Warehouse, 
Debenhams
 and Laura Ashley.
Beauty Buys
A great way to help raise money for the charity is with your October beauty buys, just make sure that they display the cancer awareness stamp and you will be doing your bit. Beauty brands involved this year include GHD, Bobbi Brown, Elemis, Bourjois, and Estee Lauder.
Foody Fundraisers
There are lots of Cancer Awareness Month products to be found on the shelves at your supermarket. Many supermarkets, as part of the Tickled Pink campaign, have a selection of specially branded food products to help raise breast cancer funds. Look out for Mission Deli Wraps in a special pink wrapper, Coca Cola and Nimble bread sporting the pink breast cancer ribbon amongst many others.Are you doing something in support of Breast Cancer Awareness Month? Have you brought a branded product or fashion item? Let us know in the comments.