New research commissioned by Oust, the descaling solution, reveals that British households are set to spend a staggering £2.5 billion replacing items around the home that could very easily be saved with some TLC.
As Britons are expected to rack up debts worth £6 billion following this year's pandemic, there's never been a more important time to take care of household appliances and save money. To help us take care of our homes and save money when we need it the most, Oust has compiled practical tips from a number of leading home experts on how to save money around the home this winter.
Bleed your radiators at home
Check your radiators for cold spots. if any are found, try bleeding the radiators as there could be an air build-up. If this doesn't remove the cold spots, you may need to think about getting a power flush which would remove any scale or sludge build-up and allow the heat to travel freely with no restrictions. It's also a good idea to turn off any radiators in unused rooms! Ashley Mullins, Plumber
Explore tumble dryer alternatives
In the UK, especially in the winter, a tumble dryer is a massive convenience to us all. However It is also a fairly expensive appliance, as you will have discovered if you own a smart meter! By investing in a heated clothing rail as an alternative for drying your clothes, you will be able to save a significant amount of money on your electricity bills throughout the year. – Mrs Mummy Penny, Personal Finance Expert
Make sure your property is well insulated
A cosy home is a happy home! The more your home is insulated, the warmer it will be in the winter and the cooler it will stay in the summer sun. Well-insulated spaces allow the air to be trapped within the house, and will prevent it from escaping from areas such as your loft space – resulting in a lower energy bill. Thermal curtains and draft excluders are also a cheap, effective way of keeping out the cold air. – Demetri Efstat, Gas Engineer
Descale your household items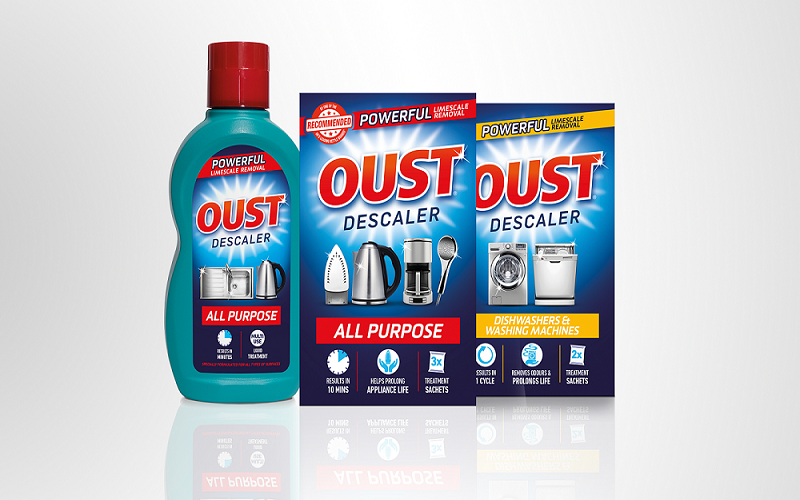 Regular maintenance of household goods is vital for making them last longer. One of the key factors to watch out for is limescale, which can impede the functioning of appliances and shorten their lifespan. "It's been proven that regular use of descaling products such as Oust, can extend the life of everyday appliances such as your kettle, iron and washing machine for years without causing any damage. This not only prolongs the lifespan of household favourites, but will also save you a fortune!" – Claudia Berto, Descaling Expert
Switch to LED lightbulbs
As the nights are drawing in and the mornings are darker for longer, we will all have our lights on for greater periods of time throughout the day and in the evenings this winter. So, to save on electricity costs and make your home more energy efficient, improve your home lighting by switching to LED bulbs. LED bulbs typically use up to 90% less energy, so the switch will save money on energy bills, and the bulbs themselves last longer, so you'll also save costs on replacing light bulbs throughout the year. – Mrs Preston's Home, Home & Parenting Influencer
Use your thermostat effectively
Another top tip on how to save money around the home this winter and that is by reducing room temperatures by just 1°C, helping to cut down your heating bills by a significant amount each year. During winter you should be aiming for around 18-21°C – plus, putting on extra layers, and closing doors throughout the house will help you keep warm. Additionally, if you don't already have a room thermostat, programmer and thermostatic radiator valves, installing them – and using them well – could bring you even more savings throughout the year.
Empty your appliance filters
"The filter of your washing machine should be cleaned every six months to remove any material build up, stray coins and any other bits which may have escaped over time. The filter of your tumble dryer, on the other hand, should be emptied after every use. This helps ensure the dryer isn't working harder than it needs to and using more power as a result". – Perry Weston, Xtraclene CEO
Meal plan before heading to the shops
Why not think about introducing meal planning into your home? We promise it's not as boring as it sounds! Create a dedicated shopping list based on all of your meals throughout the week before you head to the shops, and try to stick to your list as best as you can. This strategy ensures you only buy items you need and reduces impulse buying and spending on items that may go to waste. Planning ahead not only allows you to be organised, but you will most certainly notice an increase in the savings pot too! – Lucy Rebecca, Cleaning Influencer