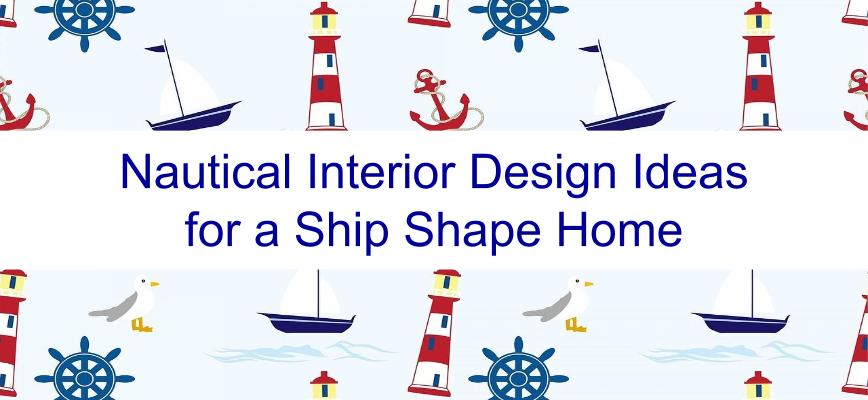 So you don't live by the sea, but it never has to be far away with our nautical interior design ideas. Theming your home is classic nautical blue and white and adding accessories such as ships, anchors and metal spun barometers will have you feeling like the seaside is just around the corner.
The nautical beach look is a classic one that never goes out of style. It is depicted by bold stripes, wooden furniture and lots of white. Use our top tips to get the look:
Stripes
Stripes must be the single most synonymous thing that depicts a nautical theme. They look clean and crisp and are great for enhancing any room.
Stripes are common for nautical themes as well as being great at visually enhancing a room. Wide horizontal stripes will make the room appear wider. Horizontal thin stripes will make the ceiling in the room look higher. You can also mix and match different sized stripes to create a unique look.
Compases and Barometers
Nothing says nautical like beautiful brass spun barometers, icons of marine life that have been loving made by metal spinners for generations. As well as adding a touch of tradition to your nautical room design you will also be able to keep an on any changes in the weather too!
The compass rose adds an interesting focal point for a nautical themed room. Think large rugs emblazoned with the emblem, or paint in onto white-washed floor boards. You will also find an array of soft furnishings come in compass rose print so you can dress your windows and beds to enhance the nautical theme too.
---
Sea Shells and Star Fish
Accessorise your nautical room with bric a brac featuring sea shells and star fish. Or, indulge yourself in arts and crafts and make some seaside decorations to bring the seashore into your living space.
You will also enjoy spending time on the beach collecting the best shells for the job.
Boats and Anchors
You can't have a nautical room without boats and you wont have any difficulty in finding a wide range of choice in helm-shaped accessories. They are very popular in nautical decor and will bring a seaside marine atmosphere into your home.
Don't forget that lifebouys and ships wheels look great on the wall and are particularly fabulous for a nautical theme is childrens rooms.
Do you have any nautical themed rooms in your home? Let us know in the comments if what design features have you used?